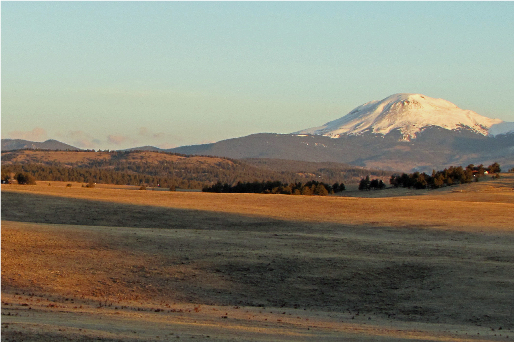 Because of the white salt marshes and springs in the western edge of South Park, the area attracted Indians and trappers who followed the plentiful game found here. Vast herds of bison and antelope grazed here and ducks, geese, beaver, muskrat, otter, mink, and trout inhabited the waterways. Grizzly bear, Bighorn sheep, wolf, mule deer, elk and cougar lived in the mountains. The Utes fought against invading tribes to protect their rich hunting ground. You'll still find arrowheads and other artifacts on much of the Ranch.
Many trappers and explorers traversed the area. Trout Creek Pass (the northern entrance to the Ranch) was the route used to access the Arkansas and San Luis Valleys. This is also where the Denver, South Park & Pacific & the Midland Railroads' tracks crossed on their way over the pass to Buena Vista and beyond. The Midland originated in Colorado Springs and remnants of its tracts (a berm) can be seen crossing the Hwy 24 main Ranch entrance. The railroad stopped here to pick up cattle.
If you look closely, you can find several original log cabins on the Ranch. These are the remains of settlers' homesteads. (Take the self-guided auto tour to find out where they are.)
The land that is now Ranch of the Rockies used to be part of the 87,000 acre Salt Works Ranch, a historical working ranch located just north of Antero Junction on the east side of Hwy. 285 as you're heading toward Fairplay. The Ranch of the Rockies portion was sold around 1968 to the Western Union Corp. which became Western Union Ranch (a.k.a. Ranch of the Rockies). The Ranch of the Rockies was developed by the Hamdun Corporation. The legal name, Western Union Ranch, is found on the original documents for the subdivision.
The Sipal Ranch, a large cattle ranch, is our neighbor. You will see some of Sipal's pastures winding in between Ranch of the Rockies property. The Sipal Ranch House with its distinctive red roof can be seen to the east from Ranch Road.
If you'd like to take a self-guided auto tour of the Ranch of the Rockies.
Click on the "View Our Properties" button to see our listings in RORA!